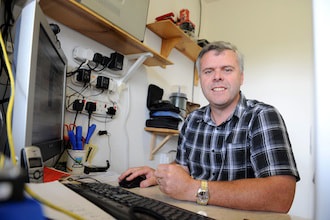 Computer Repair Cardiff
My name is Andrew Davies, I trade as AD Computers. I set up AD Computers in 2004 to help people and small businesses who are frustrated by their computers. I have the necessary skills and expertise to deal with the majority of computer problems and very experienced in carrying out computer repairs. I am a Which Trusted Trader so you can have confidence in both my skill and accreditation.
I have extensive experience in dealing with PC start up issues, PC security and viruses, networking and internet problems, I can help with email problems, computer crashes, system building, hardware and software upgrades, broadband problems and setup. I can give you help and advice in purchasing or building a computer and much more. My aim is to give you the best and most accurate PC service in your area.
I don't charge call out fees because the first thing I do is assess the problem before suggesting how I can help. If I can't fix it, I won't charge you.
I am A Which? Trusted Trader so you can have confidence in my skills and workmanship.
AD Computers is a computer service enterprise based in Pentyrch, Cardiff in South Wales that deals with computer repair services. AD computers are unquestionably experienced in this sector. This is a principled enterprise with reasonable policies and you will never find yourself grudging with AD Computers. If I fix your machine and the same problem occurs within two weeks of repair there is no extra fee charged.
Regular computer repairs & servicing can help improve performance and stop unnecessary slow-downs.
Mobile services are also available here and 99% of all your problems can be solved at your home or office – you do not need to carry your computers to our offices. AD Computers also provides computer tuition + advice that mainly entails guidance and consultation.
The major services I offer include:
I deal with repairs of damaged computers and the upgrading of the computer applications. This kind of service is aimed at improving your computer's performance, stability, speed and efficiency of performing its operations. I also deal with the setting up of routers and all other networking devices. I can fix most software and hardware problems including computer freezing issues, memory problems and collapsing/failing operating systems. I offer advice on computer back-ups, as well as selling hardware including brand new systems and other computer parts.
Computer tuition and advice is mainly about consultation where clients can be given advice on the computers that are good for them in line with their specifications. I also offer guidance on how to use the computers, including both Mac and PC, majorly after setup (not restricted). This kind of teaching is applicable for groups and also individuals. Training for company departments on system and software applications is also offered.
This kind of service targets removal of all kinds of viruses including; email viruses, spyware, malware, Trojans, spams, ad-blocks, and pop-ups. I can advise you on prevention of these viruses, offering firewall protection and also back up advice.
This service aims to retrieve lost data through various means as accidental file deletion, data loss from a virus, data recovery after a system failure in case your computer collapses, recovery of forgotten/lost passwords, USB/memory stick recovery, and also mobile recovery. This is applicable in the case of documents and photos also.
Complaints Policy
We always endeavour to provide the best service and products for our customers. However, on rare occasions, we recognise that there may be times where our customers may not be completely satisfied.
To ensure we are able to put things rights as soon as we can, please read our complaints procedure below and we will respond promptly to ensure complete satisfaction.
As soon as possible after the completion of the works, please inspect the work to ensure everything has been carried out to our usual high standards.
In the unlikely event there is anything you are not completely satisfied with, please contact us as soon as you can in order that we can rectify any problems as soon as possible. Either call us on 02920 892 959 or 07803 619266  write to us at:
AD Computers
7 Cefn Bychan, Pentyrch, Cardiff, Wales, CF15 9PG
Or email us support@adcomputers-wales.co.uk
We aim to respond within 2 days of receiving your complaint and where possible, will provide you with a date to remedy any issues raised.
Where we are unable to resolve your complaint using our own complaints procedure, as a Which? Trusted trader we use Dispute Resolution Ombudsman for dispute resolution. In the unlikely event that we cannot remedy your complaint to your satisfaction, you may wish to refer your complaint to them. If you wish to do so please contact Which? Trusted traders in the first instance on 0117 456 6031.